GERMAN SUPERSTAR HERBERT GROENEMEYER TO RELEASE ENGLISH-LANGUAGE DEBUT ALBUM "I WALK"
Public Television Concert Special Airs in December 2012 and January 2013
February 19, 2013 Album Release to Coincide with Select American Tour Dates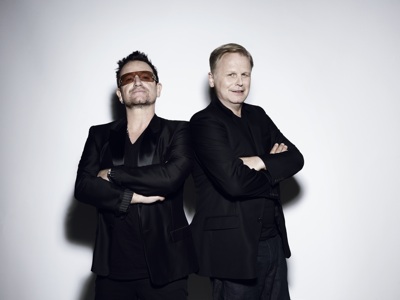 Over the course of the past three decades, Herbert Groenemeyer has established himself as Germany's most successful recording artist of all time, with album sales surpassing 18 million copies, and two of his albums, 1984's 4630 Bochum and 2002's Mensch, becoming the biggest German-language releases in history. But for audiences in the United States — and, in fact, to the English-speaking world at large — his forthcoming album I Walk will be an introduction to an artist whose music is fervent, personal and passionate.
For this album, which will be released on February 19, 2013 on Groenland Deutschland/EMI Label Services, Groenemeyer has recorded some of the most impressive songs in his vast catalog in English, and written two new songs. On the album's lead-off track, "Mensch," Groenemeyer is joined on vocals by Bono, one of the special guests on the album, along with Antony Hegarty of Antony and The Johnsons on the dramatic "Will I Ever Learn" ("When he started singing, my skin went up," Groenemeyer recalls) and guitarist James Dean Bradfield of the Manic Street Preachers on "To The Sea."
Coinciding with the February release of I Walk will be American concerts in New York and Chicago and a public television special will air in those markets during pledge weeks in December 2012 and again in January 2013. In December, the special will air on New York's WLIW on December 3 (9:30 p.m.) and again on December 8 (8:00 p.m.) and on Chicago's WTTW on December 9 (8:00 p.m.). January airing will be announced shortly.
As one writer put it, Herbert Groenemeyer is "the biggest selling artist you've never heard of."  Before he embarked on a musical career, he was seen on film screens in the breakout German film Das Boot, and more recently (2007), he was in the Anton Corbijn film Control. In 2010, he wrote the evocative score for Corbijn's arresting film The American starring George Clooney. But those intermittent appearances on the U.S. cultural radar are footnotes in the context of his musical career in Germany beginning with the 1984 release of 4630 Bochum. That album topped the German charts, quickly becoming the country's third biggest-selling album of all time.
Over the course of the next fifteen years, his music became more political, addressing the Kohl government's policies, and the impact from the fall of the Berlin Wall. 1993's Chaos went to number one, and on his tour that year he played to well over a half-million fans. The next year, he became the first non-English-singing artist invited by MTV to do an Unplugged concert. Almost a decade later, in 2002, came his most successful release yet, Mensch, an album that without exaggeration could be called the Thriller of Germany, with advance orders well over platinum, and sales now exceeding three million copies, more than any album in the country's history.  Groenemeyer regularly presents concert tours in stadiums in the German speaking territories and other European markets.
Working on an English-language album, Groenemeyer says, was less about dissatisfaction with his status outside the German-speaking world than about the challenge, the opportunity for self-discovery. "I have to find my own challenges," he says. "This is one of those moments where I think, 'OK, let's try it.' So let's start here and see what happens. I try to reinvent what I'm doing in my limited way. And that's the fun. That's my joy. This is what I can do."