MOVE MUSIC FESTIVAL ANNOUNCES FINAL ROUND OF SELECTED BANDS TO PERFORM
THE WOMBATS TO HEADLINE MOVE MUSIC FESTIVAL

CONFIRMED ROUNDTABLE DELEGATES INCLUDE:
PLEDGE MUSIC, REVERBNATION, PLANETARY, THE MUSEBOX, ROCKETHUB, PIRATE!, EKG BOOKING, HORSE TO WATER MARKETING
NADINE GELINEAU, PRESIDENT & FOUNDER OF THE MUSEBOX, NAMED KEYNOTE SPEAKER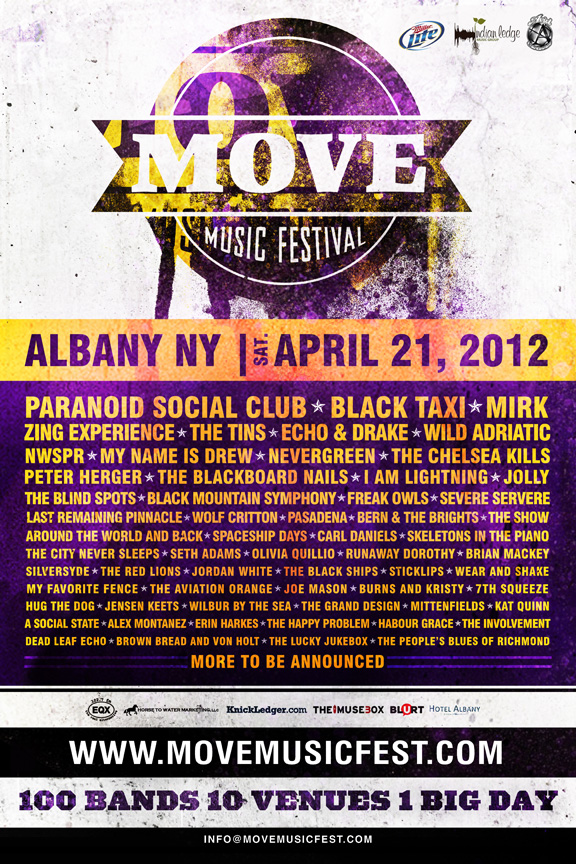 The MOVE Music Festival (http://www.movemusicfest.com ) , Albany's inaugural indie music festival taking place on April 21, 2012 in Upstate New York, has released its final list of the 100 bands selected and confirmed to perform. The festival includes a tradeshow and exhibition which will be held at Hotel Albany with music performances taking place at 10 venues throughout downtown Albany.
Nadine Gelineau, the founder, CEO, and president of The MuseBox (http://www.musebox.net) , a renowned New York City-based marketing and public relations agency for developing music artists worldwide, has been named keynote speaker for the festival's trade show exhibition at the Hotel Albany lodging and convention complex.
This event is designed to garner exposure for the incredibly talented yet undiscovered bands in the Northeast, as well as provide them with education and industry-know-how from some of the most respected individuals in the indie music world.  The tradeshow exhibition will present roundtable discussions attended by representatives from Pledge Music, Reverbnation, Planetary, The MuseBox, Rockethub, Pirate!, and EKG Booking.
The festival is presented by Miller Lite <http://www.millerlite.com> , produced by Indian Ledge Music (ILMG) and the Avid Agencies, and sponsored by The MuseBox, WEQX, the Knickerbocker Ledger, BLURT Magazine, Pearl Street Entertainment and Hotel Albany.

The final round of bands selected are: National Hotel Sound System, Pat Tiernan, The Getdown, The Ameros, The Few, The Spectacular Average Boys, Tony Lee Thomas, Smittix, Eastbound Jesus, Die Pretty, A Fire With Friends, Headband Jack, Mercies, True Apothecary, Gracies Paris, Halliday, A Story Left Untold, Shout Out the Crowd, Last One Out, Automatic Children, Pistola, Find Vienna, Playing With Sound, Charlie Scopoletti, Synapse Factory, Days of Season, Glitter Freeze, Ula Ruth, Adam Ezra, The Charlie Watts Riot.
Bands previously announced are: The Show, The City Never Sleeps, Echo & Drake, Bern & The Brights, Freak Owls, Skeletons in the Piano, Wild Adriatic, Runaway Dorothy, Jolly, The Blind Spots, Black Mountain Symphony, Around the World & Back, Last Remaining Pinnacle, MIRK, Wolf Critton, Carl Daniels, The Chelsea Kills, Zing Experience, NWSPR, My Name Is Drew, Peter Herger, Seth Adam, The Blackboard Nails, Brian Mackey, Olivia Quillio, Silversyde, The Red Lions, Jordan White, The Black Ships, Sticklips, Swear and Shake, My Favorite Fence, The Aviation Orange, Kat Quinn, The Lucky Jukebox Brigade, Brown Bread and Von Holt, Dead Leaf Echo, The Involvement, Harbour Grace, The Happy Problem, Alex Montanez, Erin Harkes, A Social State, Burns and Kristy, The Grand Design, Wilbur by the Sea, Jensen Keets, 7th Squeeze, Hug the Dog, Titanics, Hard Soul, Cosmonauts, The Tins, Designer Junkies, Six Stories Told, Evolutionary War.
About the MOVE Music Festival:

The MOVE Music Festival was founded in 2011 by Indian Ledge Music Group President Bernie Walters to promote indie music across the Northeastern United States. MOVE Music Festival is a co-production of the Avid Agencies and Indian Ledge Music Group. www.movemusicfest.com <
http://www.movemusicfest.com
>