Owl City Announces
2013 North American Arena Tour
with Maroon 5 and Neon Trees!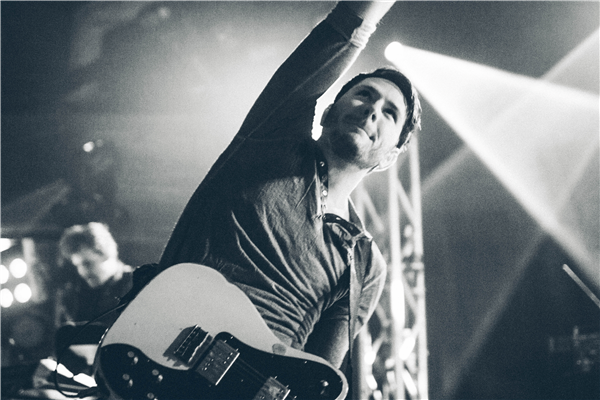 Two Month Trek Kicks-off February 13th in Columbus, OH at Schottenstein Center & Wraps in Chicago, IL on April 6th at Allstate Arena
NEW YORK, NY – Owl City announces a 2013 arena tour with Maroon 5 and Neon Trees.  The two month long trek kicks-off on February 13th in Columbus, OH at Schottenstein Center and will wrap on April 6th at the Allstate Arena in Chicago, IL, hitting several notable venues along the way including Los Angeles' Staples Center and New York City's Madison Square Garden.  The news of the 2013 tour comes as Owl City continues his The Midsummer Station World Tour overseas in Europe, Asia, Australia and New Zealand.
Owl City is fresh off the August 21st release of The Midsummer Station, his latest full-length, out now via Republic Records.  He first hit the road in July for a short sold-out promo tour of North America leading up to the new album's release.  During this time, the album's lead single, "Good Time" (featuring a duet with Carly Rae Jepsen), became a staple at the top of the radio and sales charts.  Since then, "Good Time" has been certified platinum and continues to hold strong in the Top 10 of the Billboard Hot 100, as well as Top 5 at Top 40 and Top 10 at Hot AC.  The week The Midsummer Station came out, Owl City was joined by Carly Rae Jepsen for a series of National TV performances of the single including appearances on America's Got Talent, Today Show, Arthur Ashe Kids Day, Conan, andThe Tonight Show with Jay Leno.  He hit the road on September 5th in Nashville for the first leg of The Midsummer Station World Tour, which took the band through North America before heading over to Europe to kick off the next leg with a show in Paris on October 18th.  Along the way, Owl City made a stop in NYC where the band performed a stripped down version of "Good Time" on Live with Kelly & Michael.
With the announcement of the 2013 arena tour also comes news of the follow-up single to "Good Time."  "Shooting Star" will usher the way for the next North American tour, and is going to radio in early 2013.  There's a new video in the works to coincide with the new single and before closing out 2012 – you can catch Owl City at several holiday radio shows including the KISS-FM Jingle Ball in LA on December 3rd.  Presale for all shows with Maroon 5 will take place this week, and general on-sale for all shows is this Saturday, October 27thwith the exception of Dallas and Jacksonville, which will be up for sale on November 2nd.  See below for all confirmed dates.
Confirmed Dates for Owl City:
Dec. 3rd KISSFM Jingle Ball                                                            Los Angeles, CA
4th KDWB Jingle Ball @Xcel Energy Center                   Minneapolis, MN
10th WKSE Kissmas Bash @ First Niagara Center                   Buffalo, NY
12th WWPW Jingle Ball @ Phillips Arena                                 Atlanta, GA
14th KMVQ Triple Ho Show @ Event Center at SJSU              San Jose, CA
16th KBSK Jingle Ball @ Wamu Theatre                                 Seattle, WA

w/Maroon 5 and Neon Trees:
Feb. 13th Schottenstein Center                                                     Columbus, OH
14th Palace of Aubrn Hills                                                       Detroit, MI
16th Madison Square Garden                                                New York, NY
17th Verizon Wireless Arena                                                 Manchester, NH
19th Air Canada Centre                                                       Toronto, ONT
20th Bell Centre                                                                    Montreal, QUE
22nd Mohegan Sun Arena                                                      Uncasville, CT
23rd Izod Arena                                                                     E. Rutherford, NJ
25th Van Andel Arena                                                             Grand Rapids, MI
27th Sprint Center                                                                  Kansas City, MO
Mar. 1st I Wireless Arena                                                              Moline, IL
3rd Century Link Center                                                        Omaha, NE
4th Xcel Energy Center                                                          St. Paul, MN
7th Saddledome                                                                     Calgary, AB
9th Rogers Arena                                                                    Vancouver, BC
11th Key Arena                                                                          Seattle, WA
13th HP Pavilion                                                                         San Jose, CA
15th Staples Arena                                                                   Los Angeles, CA
16th Mandalay Bay Arena                                                        Las Vegas, NV
19th Toyota Center                                                                   Houston, TX
21st American Airlines Arena                                                      Dallas, TX
22nd BOK Center                                                                        Tulsa, OK
24th Bridgestone Arena                                                            Nashville, TN
26th BJCC Arena                                                                         Birmingham, AL
27th Phillips Arena                                                                     Atlanta, GA
29th BankAtlantic Center                                                          Ft. Lauderdale, FL
30th Amway Center                                                                  Orlando, FL
Apr. 1st Veterans Memorial Arena                                                Jacksonville, FL
3rd Verizon Arena                                                                Washington, DC
4th Wells Fargo Center                                                          Philadelphia, PA
6th Allstate Arena                                                                   Rosemont, IL