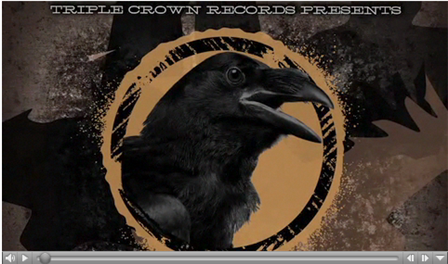 Click on screen shot to watch tour trailer.


New York, NY – Triple Crown Records, founded in 1997 by Fred Feldman, will launch their first ever label tour this December featuring several of the roster's rising stars – Caspian, a post-rock quintet from Beverly, MA, O'Brother, an experimental progressive  metal band from Atlanta, GA and Moving Mountains, a post hardcore band from Purchase, NY.  The Triple Crown Records tour marks a decade and a half for this New York City label that started out in small office in New York City.  Over the past 15 years, Feldman has released albums by a number of notable artists including Brand New, Hot Rod Circuit, The Dear Hunter, The Gay Blades, The Receiving End of Sirens and Kevin Devine.
Caspian was the most recent addition to the roster and the release of their new full-length studio album – Waking Season – on September 24th was met with massive critical praise.  The album had SPIN calling it the "Best Post-Rock Album of 2012" and in their review they wrote that the band creates, "…music that truly transcends."   O'Brother signed to the label in the fall of 2011 and released their debut album Garden Window in January 2012 on Triple Crown Records/Favorite Gentlemen.  Their album was also met with media praise.  The band earned the attention of the Wall Street Journal where critic Jim Fusilli described their music as, "…a brutalizing blend of industrial rock, alt-metal and metal featuring a three-guitar attack and the savvy, limber work of drummer Michael Martens."  Moving Mountains has been on the label the longest of the three, signing in early 2011 and releasing their second full-length studio album Waves in May 2011, which earned a four star review in Alternative Press.
All three artists have spent a considerable amount of time on the road – Caspian is currently touring the US with Cursive and Minus the Bear, O'Brother recently wrapped a massive US tour with Thrice (their farewell tour) and is currently out with Circa Survive, and Moving Mountains we out with Biffy Clyro and Thrice earlier this year and spent this past spring supporting Coheed and Cambria. These three Triple Crown Records artists represent the bright future of the label as it turns 15.

Confirmed Tour Dates:
Dec. 4th Rock and Roll Hotel                                      Washington, DC
5th Northstar Bar                                               Philadelphia, PA
6th Maxwell's                                                          Hoboken, NJ
7th The Sinclair                                                    Cambridge, MA
8th The Space                                                         Hamden, CT
9th Bowery Ballroom                                              New York, NY